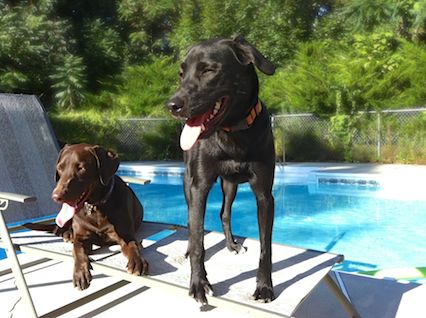 Paisley and Koia take a break during a dog training session in Groveland, MA
As we enjoy more and more days above forty degrees, many are starting to plan spring and summer getaways to work off their cabin fever. This means boarding your dog in a trustworthy place while you're away, and what could be nicer than coming back to a dog with some new tricks to show off? A training option we suggest to any adult dog or puppy owner is our Board & Train program for Massachusetts and New Hampshire clients.
If you're going away on a fun vacation, leaving your dog in a kennel situation can feel a bit unfair. Instead, keep your dog's mind occupied and his or her spirits up with our Board & Train program. You can be sure that your dog will be getting plenty of love, learning and play time throughout the day.
Our most popular Board & Train program is for on and off-leash obedience. Consistency is the key to success in dog training, and we do our training in such a way that dogs look forward to the next session. Instead of just doing a couple of long, overwhelming training sessions, we give your dog high energy sessions all day long, and keep the mood fun with treats, toys and exercise.
The best on and off-leash obedience starts in the training room for rock-solid fundamentals. Once your dog is ready for the next step, we take things outdoors, in public and in homes to simulate everyday distractions. Your dog will be practicing his or her new techniques in new surroundings, from downtown Newburyport, MA to busy Plaistow, NH plazas and beyond.
In terms of puppy training, our Board & Train program is an excellent opportunity to teach socialize your puppy, teach foundations, and give your dog the independence needed to prevent separation anxiety. We carefully monitor for the formation of any bad habits (like jumping, nipping or chewing) and correct them before they turn into big problems later.
Clients in the Boston area have a new reason to celebrate off-leash obedience training: Boston Common now has expanded off-leash dog hours and locations. Owners of well-trained dogs are able to take a casual walk among other people and dogs and enjoy the closest thing to nature that can be found in Boston.