First Choice Canine Reviews:
Here's what dog owners say about our trainers in Southern New Hampshire.
"Backstory: I adopted my 3-year old lab/beagle mix a year ago, and quickly learned she has a serious case of fear aggression around large dogs and any strangers. She barks, growls, and is generally a frightened and aggressive mess around anyone and anything she doesn't know – which is clearly a problem living in Boston.
Fast forward a year: 3 dog trainers later, I was about ready to give up and accept this is how she will always be. Contacting First Choice Canine was my last ditch effort. Upon my consultation, Khaled immediately had a plan to attack the problem – which involved a solid foundation in obedience and then layering in behavior modification. We are not even halfway through our training and I already see marked improvements in her obedience and overall confidence. I've learned that it's not all about the dog – a lot of the training is for the owner! I'm excited to see how far she will come with continued training, and I have a renewed confidence that with the right trainer, you can make a difference! I highly recommend Khaled & First Choice Canine. I'll be back with a follow-up once our training is complete."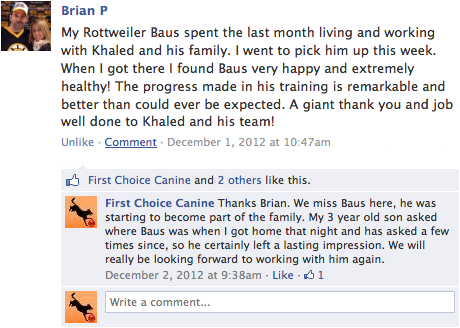 "First Choice Canine is an unbelievable asset to the northeast. I have two show/working Rottweilers. Before finding Khaled and his team I was shipping my dogs all over the country for training. Khaled was referred to me by a close friend when I met his dogs and saw the caliber and reliability of their training. Since then I have worked with Khaled on a number of occasions and a number of subjects. We have worked on high level off leash obedience all the way to family protection work.

I would not hesitate to recommend Khaled and his team to anyone. My dogs are family and I trust Khaled to handle my dogs without any reservations.
If the best is what you are after then it's clear this should be your first choice."
"I have a 3 year old Beagle, Bradley, that I placed in a board and train program elsewhere when he was 5 months old and they abused and lost him. After thousands of dollars in medical bills and a lawsuit, I was left with a severely fear aggressive dog. I reached out to 5 different trainers who all failed and even put my dog on Prozac; First Choice Canine was my last effort.

My favorite result from the training is that I can be comfortable with Bradley off leash. I became extremely over protective and fearful that something else bad would happen to him that I sheltered him from new experiences and made his situation worse. Now I take him in public off leash. He's never been more happy to be free and run around without a leash constricting him. We are still continuing with the training, but we as a family are much happier! I highly recommend First Choice Canine."
Lisa is a dog lover and rescue coordinator. She lives in Swampscott, MA and took her German Shepherds to First Choice Canine for off-leash dog training.
Thank you for all the work you have put into Clara so far! She is like a different dog. She's still her sweet and fun-loving self, but she's listening to basic commands and she's much calmer! Hooray!
Thank you so much for all you've done for me and my 'baby' Sarge. I had given up taking Sarge for walks anywhere due to his aggression, and we have people who won't come back to my house because he scared them. It's awesome to take him for walks now, and have people stop to admire how beautiful he is and how well-behaved! I didn't think it was possible! I also have to thank you for helping me with my 'problem child' Cooper.  Good grief! We adopted him as a 3 year old from the MSPCA. You have saved Cooper's life! He was about to be loaded into the car for a ride back to the MSPCA but you gave me hope that he could be a good dog.  He had a good temperament but so many bad behaviors. Your training has helped him become a well-behaved, loving companion, which is what we had hoped for when adopting him. Thank you so much!
The main reason for me to go for training was the dog aggression Kamden had with other dogs when I used to walk with them on leash. I couldn't control them and they were running all over the place, and that's the main reason I looked into dog training. I went to many dog training places, did puppy training with them, and even went into advanced training, and they were all based on pinch collars and using the pinch collar on a leash, and I still wasn't able to control them, especially when Kamden was with other dogs. Once I worked with Khaled I was sure that they could go off leash. The main thing with training is that I also wanted to make sure they didn't lose their personality. And it's always good to have them under control at all times, but they are part of our family and my wife and I enjoy them at home and we want them to behave like dogs.

Oscar's aggression problem started off sort of minimal, and then it got to the point where we couldn't take him for a walk or he'd try to lunge at other dogs, and attack the leash, and if I was in the way he'd bite me too.
I've tried training Oscar at different places with different trainers, and I haven't had any luck—I would only get so far and really we just never found anything that would get to the root of the problem.
A friend of mine recommended First Choice Canine, and my first thought was, "Well, if nobody else can fix Oscar I don't know how they're going to be able to fix him, but we went away on vacation and (Khaled) took him for us and said I'd have a new dog, and sure enough, when we came back, he was a new dog!
This whole process has made me become more aware of him and how he behaves, and being more confident as a handler. It's a really cool process to see because I would never have believed it. We thought he was going to end up going to a new home.
We decided to bring Brady to obedience training because we adopted him from the MSPCA. We felt like a lot of people kinda just gave up on him because it was really tough to train him—that's why they put him up for adoption. Training was a huge part of my lifestyle with Brady. It was a lot easier ever since he did the obedience course. I've been able to take him to the park off-leash and not have to worry about him. He listens really well on command. It's huge considering I'm a real outdoors person. I like to do a lot of trail walking, I hunt and fish, and it's good because he'll stay right with me, I don't have to worry about him running off.
I have two sons, a ten and a twelve year old, Connor and Aiden, and my two boys can walk Dundi throughout the city off-leash at any time. He follows them—he'll move from my command to their command without a trouble whatsoever.
I've had a lot of dogs in my life and by far Dundi, my Belgian Malinois, is the best trained dog I've ever had, and the training I received from Khaled is by far the best training I've ever seen in a dog in my life.
Tanya brought her dogs Maia and Zeus to First Choice Canine to give them off-leash obedience and great social skills. Their days of doggy daycare delinquency are behind them, and now Tanya can take them anywhere!
"Amazing!! I can't say enough praises about Khaled and his team in every dimension of our training!!!
CALM, CONFIDENT IN WHAT THEY DO, CARING, PUNCTUAL, and most importantly for me, PATIENT!
I was a wreck and felt I was in over my head with a dog who outweighs me, and I was beginning to think was a dog I could not handle.
We saw this training as serious as raising a child properly. This training would be their "college". Here was hoping not to flunk 🙂
With a bad rap sheet of play issues with other dogs, getting kicked out of doggy daycare my two giant sized dogs with two giant size issues, and a very distraught human mom, with a serious lack of confidence, called Khaled.
At the beginning, I was in a panic. Zeus, (my Newfoundland/Neopolitan Mastiff mix) then 130 lbs at 16 months, who I know is not bad, needed manners in how to be around other dogs. Most importantly, his human mom, needed training on how to be confident with him.
KHALED KEPT CALM AND HELPED ME GET PAST MY FEARS AND EXPLAINED EVERYTHING FROM DAY ONE!
It scared me to tears how helpless I felt. Zeus is my baby, and I want to do right by him. I did not want to own a dog that is not behaved, I can't take with me everywhere, and have to wonder "what do I have to be worried about in this situation."
We opted for the 18 week on/off leash obedience. It was so worth the 1 hour trip each week for Khaled's personal training.
From a dog that played way too rough borderline aggressive, and another dog that was starting the aggression issue early, we now have two well mannered dogs that go with us on hikes in the woods, on trips to the park, outings to dog friendly stores, meeting new people, children and dogs along the way.
Everyday I take them on their walks, with a new found confidence, and the two dogs are able to stay right next to me off leash as well as on leash. Of course leashes are brought, but just knowing they have the ability to be behaved either on OR off leash is an amazing feeling!
I wouldn't change a thing about our training! Khaled delivers the results you see on his website. You won't be disappointed.
THANKS SO MUCH KHALED FOR EVERYTHING! YOU AND YOUR TEAM ARE WONDERFUL!!!
Zeus and Maia say "hello"!"
I can't thank Khaled and his team at First Choice enough for working with us and our dog Rosie. We adopted Rosie through petfinder at 4 months and as she grew (and we grew), her behavior intensified over time: a new baby, a move to the suburbs, a change in dogwalker and less social interaction with other dogs. We met with a behaviorialist that diagnosed Rosie with Seperation Anxiety and Fear Aggression. We worked with other trainers throughout her life, some with the ecollar where she didn't react well to pain where it was used inappropriately, some using only positive reinforcement (clicker) and were unsuccessful with her behavior modification. Medication was not an option we were willing to take, as the two disorders each require different medications that stimulate the other. We were scared that we couldn't do what was best for Rosie and even considered a different home may be in her best interest.
First Choice Canine knew the right balance of what Rosie needed – to help reduce the neurological issue of fear aggression and give her the confidence she was seeking.
Now that we have Rosie back in our home, I am confident she is under my control and the fear aggression is no longer an issue. We have worked with her on our own for a couple of months and our job is to not ruin what Khaled and First Choice Canine have done 🙂 We are able to walk Rosie off-leash in situations that we have avoided in the past – near men (especially with baseball hats), around other dogs that she would normally lerched towards and even birds or squirrels. We are in control of her behavior. We have a loving part of our family back and are happy to report us as a success story. Thank you to Khaled and John. We are forever grateful for the relief and life you have given us.
"At 1 year Darby started to show aggression towards people and other dogs, barking and growling. Vet gave me the name of a behaviorist in Nashua N.H. for problem dogs, we had to wait 6 mos to see her. Meanwhile he had bit 3 friends at my home no broken skin or injuries, but he had grown worst. At the appointment she told us to put him on the leash she had hooked on the wall, she sat on a chair within his reach, and Darby bit her on the knee. She became unprofessional, yelling that he needs to be put down immediately. After collected $150 for 5 min evaluation she sent us 3 page letter, her opinion Darby had to be euthanized.

My daughter called First Choice Canine to make an appointment. Upon arrival we were asked to sit on the sofa in the lobby area. When Khaled sat down with us to discuss our problem Darby repeatedly started growling and lunging at him. Within ten minutes he told us Darby was not a bad dog, but a frightened dog, he was scared of people. KB told us Darby only acted out when their eyes met, and that he was not the type to bite and hang on, he did this to scare people and every-time it worked he grew more confident. KB was sure he could help stop this behavior and offered us two training choices: Board Darby with him for 5 weeks and he would train him for us or a 20 week program where we bring him weekly to be taught how to stop the behavior and regain control. When he talked of taking Darby in public off a leash as a well behaved dog, I thought it was a sales pitch, but was willing to try anything before putting Darby down. While I wanted option 1, KB thought option 2 was best. There wasn't any pressure and he told me to think it over. We decided to go with his recommendation which was actually the least expensive option. Since we also had 1 year old female we signed both up for 20 week.

Day one Darby started barking lunging at him and growling. Khaled told me to let him go, he grabbed his leash and quickly gained control. He walked through building, upstairs and into the training area with Darby like he was his dog. I couldn't believe what I witnessed, there was hope. That 1st week he worked with Darby for the whole session while we worked with Fiona. For the duration of the training we did the work under their direction. Khaled and staff challenged them weekly with strategies geared towards each dog's problems and how to solve them. By week 10 we were training the dogs in public places amongst strangers. not only would Darby stay in a down position while other dogs jump over him, laid on him, he would allow others to train him while I took dogs of people he never met. In the 6 months since we finished, Darby improves daily, showing no sign of aggression. I can even sit him at the entrance of a Market Basket and walk 20′ away and allow strangers to adore him. First Choice saved my friend from being euthanized because of an incorrect diagnosis. If you have a problem, you owe it to the dog to make your choice First Choice Canine. Darby, Fiona and I will forever be grateful to Khaled and his FCC staff of dog loving professionals for reprogramming Darby."
"Incredibly professional and great with the dogs. Exceeded our expectations! "
"I'm on my 3rd dog, both were trained elsewhere. The others were good but not even close to the talent KB has. One of my dogs was chasing a frisbee that went into the street. He got hit by a truck and died in my arms. I swore that would never, ever happen again. KB taught me how to command my dog to drop to the ground, let the frisbee keep going and for the dog to turn around and come right back to me If you're thinking of an electric fence, save the money and invest in your dog like I did.

KB should have his own TV series he's that good. Watch the videos like I did, you won't believe what he can train dogs to do. I'm actually thinking of asking him to train my current Doberman to be able to drive for Uber for additional household income! I wouldn't be surprised if he said he could do it. My dog is a 117 lb European Doberman that is very dominate and aggressive towards other animals. KB fixed that problem in less than an hour. KB had three other dogs come in all at once and individually had them hop on my dogs back with their front paws and eat treats from the trainer's hand. The entire time my dog did not move. To this day, I walk around Home Depot totally leash-less without any fear of something happening. Even walking by other dogs my dog is right on my hip, only paying attention to my next command. Sorry this is so long, but I can not emphasize enough how KB truly changed my entire life by just training my DJ. Do yourself, your family, and your dog a favor… Don't be the next person writing a review about losing your 2 year old dog due to lack of training. There is no better feeling in the WORLD than walking around with no leash and hearing comment after comment on how well he is trained along with probably the most popular, "I wish my dog would listen like that!" I can't thank KB, the staff at First Choice Canine/Protection Dogs Plus enough. I would never, ever, ever, even consider someone else. Thank you all at First Choice!"
"Amazing training and amazing results. I would never consider going anywhere else, Khaled is stuck with us forever 😍!"
"This is an outstanding place to get your dog trained. I signed up for 15 weeks with the goal of being able to have my dog walk off-leash. My golden retriever was very excitable and out-of control when I started, even though I had been to several group classes and we'd learned the basics of sit, down, stay. He pulled on the leash so hard I couldn't control him so the first few weeks we worked on leash control and getting him so it wasn't crazy. The electronic collar is used now every time we go out and it's wonderful having a dog that is a delight, not a wild, crazy, jumping puppy. I am so glad I invested the time and money into doing this with Khaled, Vanessa and Chris. They understand dogs and know how important positive reinforcement is to getting your dog to behave. I highly recommend this training facility."
"I can not thank you enough!!!! who is this new bull terrier I took home from your place yesterday?!?! Thank you so much for all your hard work with Tyson over the past month. We are literally floored with the amount of improvement that has taken place. And are looking forward to our future training sessions with him!!! Thank you thank you thank you!"
"Working with KB has been one of the best experiences I have had training Menno. He is very knowledgeable, patient and has taught me invaluable skills. Thanks FCC!"
"KB and his team are amazing professionals. We tried puppy training with our Alaskan Malamute mix. We were amazed of his work since day one. Later on our dog went to off leash program. I had no hope for my dog because she was super stubborn and lazy to learn. But they did a great job with her. She is completely trained. I still do not believe she finally listens to us, and we can take her everywhere off leash with no worries about her running away. KB always found the best way to train her. It meant changing schedules, taking her during the day to First Choice Canine and KB coming to our house."
"The biggest difference with FCC is that they follow through. Khaled takes pride in his training, and wants to ensure that the owners are able to handle them the same way that he is. He doesn't pretend he can do something with a dog that isn't fit to do those things. He recognizes that some dogs will never lose certain behaviors, but teaches the handler how to have control in the situation to make sure the behaviors are managed if not completely corrected. The owners are not LAZY. This is huge. They will go above and beyond to make sure things are done right. This includes not only training but maintenance as well. Lastly— Khaled is literally a dog whisperer. My big dumb shepherd responds to him (with or without the e-collar) incredibly. He has an energy when talking to the dogs that just gets them excited and focused. HIGHLY recommend !!!"
"My rescue dog Hondo was very reactive when he arrived from down south. Couldn't be touched, didn't know how to be indoors, knew few commands. He spent some serious board and train time, 7 weeks, with KB and Ashleigh at First Choice. He is like a new dog! Can walk off leash, be relaxed for extended periods of time and knows more commands than I can list. They saved his life!!"
"Thank you so much KB for taking the time to help Fenway be the best he could be and teaching Jeff and I! We have all come so far! I never thought we would get Fenway comfortable with his crate never mind love it. Now he loves it so much he whines to get into the crate for bed(no more 3am wake up barks!). Then there was the doubt that I would never be able to control him on his leash never-mind off! seeing him off leash we are so excited (especially Fenway!) 'a tired dog is a great dog'"
"If you have seen the video on First Choice Canine's web site featuring Oscar, that was exactly how my dog Gunner was acting. I couldn't take him for walks without him lunging at people and going after other dogs, birds or squirrels. I had tried two different clicker training classes which did nothing at all to address his reactivity/aggression. The last straw was when we were politely asked to give him a break from his doggie day care. So I searched the web for aggressive dog training and First Choice came up. I watched the video about Oscar and immediately booked an evaluation. Khaled suggested their 5 week board and train. Fast forward to today we have had Gunner home for 3 weeks now and just left our 2nd follow up training session. I have a very different dog now than the one I left off 8 weeks ago. I can go for walks with him right by my side on and off leash. I can take him in the car and he lays down in the back and doesn't make a peep. We've taken him to festivals and flea markets where we get compliments about his good behavior. I now have the dog I hoped to have. Khaled (KB) and Vanessa did a great job at our pick up session teaching us Gunner's new commands and instructing us on the use of the prong Collar and e Collar and I don't want to leave out Ashleigh who mans the desk and fields all the emails. We met with KB for 2 more follow up sessions where he addressed any issues and questions we had and gave more advanced off leash training. I am super happy with what KB and the team at First Choice Canine have been able to do with Gunner, now it's up to me to keep up with the training to keep him sharp which I have learned is fun to do."
"Nothing but great things to say about KB and his staff. Aside from the magic they work with the dogs, they were a pleasure to be around, friendly, positive, helpful, etc…Our golden retriever Riley has come a long way since our first session, not only is she off leash, but her confidence has grown tremendously. Thanks for the great work and we strongly encourage anyone to give First Choice Canine a shot."
"We are very, very happy with how KD is helping us with our Golden… he is doing a great job training us (we need it more than the dog!)"
"We have NOTHING but AMAZING things to say about KB and everyone at First Choice Caine. Our Brook did a 6wk training program here. She was a ball of anxiety which was starting to turn into aggression. We had been to a behaviorist, she was on meds and it was not working. We were in a position of looking at having to put her down, which was devastating us but we had to way out the safety of our family. THEN CAME FIRST CHOICE CANINE! Our saving grace. Brook has come back a different dog. She is not so on edge all the time and can relax at home! Sending Brook here has given us and her the tools to deal with her anxiety with NO MEDS! This literally saved her life and our family life. AMAZING!!!!!!"
"Nothing but excellent praise for Khaled and his team! He not only trains dogs, he is a great people trainer. We purchased a dog from him that he matched us perfectly with and then trained "us" on how to work with him. People stop us everywhere and can't believe how well behaved Fury is. We give all the credit to Khaled. Looking forward to many wonderful years with our new family member and future training with First Choice Canine."
"Fantastic training! If you want your dog to listen to your every command while off leash, this is the training for you. After 14 weeks of training, I am confident that my dog is safe and responsive while off leash. We have been to busy parking lots, inside/outside stores, parks, and each time I am more & more excited with the results. I am looking forward to many years of enjoying the outdoors with my buddy off leash.
Blaze (56lb. Collie) has also been obedience trained during the last 14 weeks which makes it easy to take him to other peoples houses even those who have their own dog(s). This training has also lead him to achieve the Canine Good Citizen (CGC) Award. The bond between Blaze and I is so rewarding. I highly recommend this training. If you follow the lessons, practice on your own, and be consistent, the results are truly amazing! Thank you Khaled and all those at First Choice Canine. Regards – Susan and Blaze"
"Khaled was recommended to me by another amazing dog trainer (Tom from Walky Walk – see my Yelp review) who I hired to train my formerly super-aggressive mini-schnauzer, Charlie. The training was very successful, but Tom moved away and I wanted to train my 1-year-old minilabradoodle (Beau) just like Charlie. Although Khaled does work with many aggressive dogs, Beau is super sweet, loves everyone, and has no behavior issues at all. Khaled's ability to read and communicate with dogs is immediately evident and extremely impressive. He was equally helpful in training Beau and training me. He taught me how to work with and understand Beau. My two dogs are very different, and, although the end-results were the same, the training with Beau was in many ways different than the training with Charlie because Khaled knows how to tailor the training to the individual dog. Both my dogs are exceptionally well-trained: off-leash walking, 100% recall, sit/down-stays, etc. I can command Beau and Charlie to lie down, and they won't move until I tell them otherwise. It's amazing. Khaled is without a doubt one of the best trainers out there."
"First Choice Canine is an amazing program that will truly help you and your dog have a better life! We have an 8 year old Rottweiler/Shepard mix that had severe separation anxiety, lack of confidence, couldn't walk on a leash passing others without lunging at them and couldn't be around children. My husband and I were concerned with Lincoln being 8 years old and if the training would help at wall with his age. Khaled and his team have beyond met any expectation my husband and I had and the dog we have now after the 6 week boarding program is the dog we had only dreamt for! Lincoln has a much happier obedient life and the love he had for Khaled and his staff was very apparent every time we met for training consultations afterwards. It was very calming for myself and husband to see Lincoln's loyalty to them and you knew how well they cared for your dog while they were away. I wouldn't trust my dogs with anyone else and during Lincoln's 6 week stay the staff did an amazing job of sending pictures and responding to email. If you have a dog that needs any training please don't hesitate and choose First Choice Canine. Our family's can't believe their eyes when they see Lincoln today they call him Lincoln 2.0! For what Khaled has done the price is more then worth it!!!!! I have had so many people at the dog parks ask where we sent him they also can't believe their eyes with how well he is trained and won't break his commands. It's been such a good experience!!!! THANK YOU FIRST CHOICE CANINE!!"
"Khaled is a great trainer, even if you have a dog with aggression issues. We rescued a very sweet dog who was overly defensive and KB was very good with her. We learned a lot during training and happily recommend FCC to the many misbehaving dogs we see out and about :)."
"We have three dogs. None had formal training. Our newest is a boxer and she's a large playful puppy. We realized we needed help handling all the dogs so everyone was well behaved and polite. My older dogs are little and bark at everything. One has fear aggression and has always been a handful. On consultation Khaled recommended on and off leash training just for the boxer puppy. He would give us tips to work with the others. After the first session and a bit of reinforcement we were able to walk the boxer on a leash with her staying at my side loose leash. We were thrilled! Now after a couple more weeks, she's able to sit (and stays) go to down (and stays). My aggressive older dog can be leash walked no barking or lunging. We are now working on no barking in the house. They no longer go BONKERS with some one at the door. It has been three days and I fully expect it to continue to get even better. I truly cannot say enough how pleased I am so far. My boxer loves Khaled and has a great time while we are there. She's happy and excited when we get there. Even if you're not interested in full off-leash training. Working with some one who is knowledgeable, loves what he does and the confidence he brings, I highly recommend for obedience."
"We first brought our dog to Khaled Behisy and First Choice Canine in January 2014. Up to that point he had several instances of showing aggression toward people and other dogs. Thing got worse since our recent move to Boston. We were no longer comfortable bringing people into our home and avoided situations that involved another dog or new people. He was a loving dog, loyal to his owners and gentle toward anyone he had ever known. The problem was meeting new people or dogs. During our consultation, Khaled listened carefully to all of our concerns and exactly how each scenario had unfolded. Khaled was able to identify the issue we were having as fear aggression. He was not a bad, aggressive dog, just one that lacked confidence and used aggression to remove the anxiety he felt when meeting new people and dogs. We did a combination of the board and train program with training sessions. When we came back to pick our dog up from the board and train, we could not believe the transformation. He was following all his commands, and at one point was lying in the middle of the room while other dogs ran around chasing balls. Khaled and the team had given him a solid foundation of training for us to begin our sessions. After the one on one sessions were complete, we were able to walk our dog off-leash in a park past other dogs and people without him paying attention to the distractions around him. It was truly remarkable. We would never have imagined that would be possible. The amount of follow-up and availability Khaled gave us during the process really displayed how much he cares about his clients and their situation. He was willing to try anything, including driving down to our house one afternoon, which was over an hour and a half away, to work with us in our neighborhood. Our dog still has his same personality but is less anxious and now has positive confidence. We are finally able to enjoy taking our dog out in public places. We will be forever grateful to Khaled and the team at First Choice Canine for everything they have done for us and encourage anyone needing some help with their dog to give them a call and understand you will be working with the best."
"I would like to start by saying I have NOTHING but great things to say about Khaled and his team and here is why:
I purchased a puppy from a breeder in France and after the first night when I gave her bath and attempted to blow-dry her, I knew she was going to be a challenge. This puppy had pretty severe aggression towards the blow-dryer at just 4 months old that I was concerned. Then I started working with her with very basic training and she was very aggressive toward the light corrections I was giving her when trying to teach her to walk with a leash. After she came at me and tried biting my leg at just 5 months I knew I was going to need some professional help.
I knew of Khaled's training company and his reputation so I have him a call and explained everything that was going on with my aggressive puppy. Within a day, he helped me to get her on a flight from Portland, Oregon and get her into his "Basic Puppy Training" package. Throughout her time there he would call me and send me pictures of her progress. By the time I was scheduled to pick her up, I was still hesitant and had already started looking for someone who would take on an aggressive dog.
Upon arriving at the training facility, Khaled assured me that she was very good. I was still a little nervous to see her because I had been on the receiving end of her aggression and didn't know how she would react when she saw me. When we got into the training room and he went and got her I was shocked. She was a completely different dog. She was happy and confident. She is completely off-leash trained and I can take her anywhere with me and know that she will listen when I give her commands. The real test came when I gave her a bath after I got her home. I could not believe that I could blow-dry her completely without ANY growling or biting or aggression of any kind. I truly went from wanting to find a new home for my aggressive puppy to a young dog that I can take anywhere and do anything with. She plays gently with kids, she is obedient in the house and I now cannot imagine a day without her.
Thank you so much to Khaled and the whole team over there who worked so patiently with my hell-puppy and turned her into a sweet, loving, and trustworthy companion."
"Sabre and Kuma say 'Hi!'
Years ago these two got their training at First Choice Canine. Because of that training Sabre and Kuma enjoy more freedom and stranger attention than any other dog I know. I can bring my dogs absolutely anywhere from deep woods tracking to crowded city sidewalks and know exactly how they will behave and act.
As a quality of life investment. First Choice training is one of the best."
"Thank you FCC! Thank you Jon and Khaled for all your amazing work with Oscar! We feel like we finally have the tools to help Oscar with his fear aggression and know we have work to do to finish the work you've started. It's clear he was loved by you and your staff. Thank you."
"Khaled,
Just wanted to check in with you and let you know that we have seen an amazing difference in Titan's behavior since his time with you while we were away. Our friends have even commented. Thanks to you and your staff!! Titan and the Limoli Family"
"My husband and I cannot say enough about Khaled and his team. Calling him an amazing trainer is TRULY an under statement. He is top notch, as good as it gets. Stella's results from her board and train program far exceed our expectations and it keeps getting better. We are having so much fun working with her and watching her grow into an obedient, confidant and wonderful dog. Everywhere we take her people make a point to tell us how incredible she is, especially for a 9 month old boxer! We couldn't be more proud of our girl! We will be forever grateful to Khaled and First Choice Canine and we will without a doubt continue using them throughout her youth and when we take our next journey with her brother (waiting on litter). Stella will make you proud Khaled!"
Read more First Choice Canine reviews:
"First Choice Canine is the best place we could have chosen to train our puppy! When we got our puppy,
Pistol, a Black German Shepherd, we were really unsure if we were going to train him. After experiencing
his high energy, we thought it would be best to have him trained. While searchin for trainers, FCC came
up, so we checked them out. We liked that they had special classes in security as well as obedience.
They showed us fully trained dogs, explaining in detail exactly how the training sessions would go.
Before starting, we actually found out that we knew two other families that went to FCC and were so
happy with the training. Once we started the 18 week program, it was such a fast transformation. The
extremely trust worthy trainers were so attentive and patient with both Pistol and us. Every week we
would have new questions, such as how to correct a behavior, which they went over during each session
to show us how to correct it. We got to see first hand how the trainers were with all types of dogs (from
shy to high energy). Even after Pistol's training ended they stayed in contact with us and are still there if
we call them about correcting certain things. It made raising our puppy and training him so much easier.
We defnitely didn't feel alone! We still bring him to their group sessions for some refreshers. I would
highly recommend them to anyone looking for dog training of any sort!"
"I want to start off this review by saying that KB and his team at First Choice Canine truly did save my dog
Scout. I adopted my then 2 year old Scout from a shelter in Houston and quickly realized his anxiety and
fear aggression were completely omitted from his description. Over the next 3 years I tried everything
possible to alleviate his aggression towards other dogs, strangers, noise, etc., nothing truly worked. He
essentially displayed aggression at everything or everyone he was not comfortable with. All the while I
stayed hopeful knowing he was a good boy at heart. He was always kind and affectionate towards our
family and his handlers. When my partner & I found out we were going to have a baby, I knew we
needed a permanent solution and the possibility of giving him up would have broken my heart. I set up a
consultation with KB and First Choice Canine. KB and his team were honest and insightful during the
consultation, showing me the results that I could expect. After testing Scout, KB answered all of my
questions and provided solutions for every scenario I could think of. I chose the 5 week board and train
program; one of the best decisions I've ever made. Throughout the 5 weeks away from my scruffy best
friend, the team at First Choice Canine would send me updates, photos, and answer any questions that I
had. When I arrived on pick up day I had a new dog. There's no other way to put it. He was still his
energetic, fun, spunky self but is now able to follow handlers' directions in a way that I never thought
possible. KB and his team gave me the tools to control Scout's behaviors which have allowed him to live
a happier life. A dog who was aggressive towards other dogs and people is now walking completely off
leash, at my pace, without barking or leaving my side. The results really are unbelievable. It's been about
5 months since we finished the board and train program and Scout is doing great. The best part of this
whole process is that he has acclimated himself to our new baby girl and our new family seamlessly. This
would not have been possible without the training and skills that both Scout and I received at First
Choice Canine. I highly recommend this place. Thank you so much KB and team!"
"When Lexi, a pure bread Mini Bull Terrier, turned 1 year in August 2018, I knew I needed to get her
under control. Bull terriers are one of the hardest breeds to train because they are extremely smart,
strong willed, have an incredible drive and lots of energy. Combine that, a mischievous personality, 25
pounds of pure muscle and you have a very explosive combination! Since Lexi was constantly bullying
our 8 year old Yorkie and our 3 year old son, she was spending more time in her crate then with us. This
wasn't fair to Lexi, nor were we able to enjoy her like we wanted to. I interviewed several dog trainers
before meeting with KB. From the moment we sat down to talk about Lexi's needs I knew he was the guy
for the job. After handling and observing her, KB told me that they would need to tailor a customized
approach for Lexi's training because every dog was different and would respond to different motivation.
He assured me that Lexi's personality was not to be altered. So we signed her up for a 5 week in house
training program. The facility and all the staff members are really nice. Through the whole process there
was a lot of communication with KB. He would send me weekly updates of how Lexi was doing and what
they where working on, which included off leash training. OFF LEASH!! This was the most stunning part.
When the 5 weeks were up and we went to pick up Lexi, I just couldn't believe my eyes!!! Lexi was
listening to commands and paying attention. I was amazed at how First Choice Canine gave me control
of my dog without altering her personality. Now I take her everywhere because she actually listens to
me. It has been 6 months since her training ended, yet if I have a question or concern I know that KB
and his staff are there to help. KB also holds post training maintenance sessions once a month, which
helps one tune your dogs training. Overall I am so glad I found KB and First Choice Canine! Hands down
the best dog training facility by far!!"
"We are an older couple who have always had large chocolate labs. We have always trained them ourselves. Our 12-year-old beloved dog named Crocker died last year, and we located a new beautiful friendly rambunctious chocolate lab puppy that we named Parker. Before we knew it, he was a muscular, head-strong, 110 pound 1-year-old. He was taking us for walks, dragging us anywhere he chose to go. We couldn't handle him. It became obvious that if we were to keep him, his behavior would need a massive overhaul. Our son told us about a local pit-bull mix that had undergone training at First Choice Canine in Brentwood, NH, and had been transformed into a mellow pet. We found this story difficult to believe, but we were desperate, and willing to try anything. We drove to Brentwood and met with the owner of First Choice Canine, Khaled Behisy. We were impressed with the owner and with the facility. A few weeks later we dropped our dog off for 4 weeks of intensive training. We crossed our fingers and let them do their magic. When we returned we were absolutely amazed at the transformation. Our dog's behavior was absolutely perfect. We can now walk him effortlessly on a leash, he fits into our family and is a perfect companion. Now he obeys commands, no longer runs out of our yard or jumps on visitors. Best of all, he now sits quietly in the room while my wife works with clients. At one point we thought we must have brought home the wrong dog. We also participated in the essential 'people training' exercises that occur after the dog has completed his training. This was a great experience as well, and quite informative. Somehow First Choice Canine transformed our dog from a 'wild animal' to a well-behaved, rule-following family pet. His transformation was nothing less than a miracle. My wife and I highly recommend First Choice Canine. The owner, Khaled Behisy, and his staff are first rate. They have a genuine and sincere interest in making sure we were satisfied with the results. We are more than satisfied and very thankful that we can now keep Parker. Parker is no longer a 'difficult' dog. Bottom-line: Our investment in training Parker has paid off 'big time.' Thank you First Choice Canine of Brentwood NH Mike and Chris, Marblehead, MA"
"We brought our German Shepherd to First Choice Canine for an 18 week training program and have had amazing results! Chris did a great job with Dixie and us (we were the bigger challenge). I actually enjoy taking her for walks now and I'm not being pulled down the street. Our confidence is growing with her off leash training. Chris would be proud that I've been taking her off leash and I'm getting more confident with it. I would highly recommend First Choice Canine! Dixie is going to miss her training every Saturday."
"I have been bringing my almost 1.5 year old German Shepherd dog here for several weeks now due to obedience work and dog aggressive behaviors. Since we have started working with Khaled and his team I have seen almost a 180 with my dog sierra!! She is now able to walk next to me off leash and not react to dogs as we walk by. We still have some work to do to get her where I want but I would highly highly recommend first choice canine to anyone looking to put their dog through training of any sort. They truly are amazing at what they do and I'm very happy with the services."
"We just finished our on leash training with KB for our dog Fenway. I can't say enough good things!! Fenway has come a long way!"
"I am extremely happy with our experience with First Choice Canine. I first learned of FCC by watching their videos on youtube and decided to get in touch. Ashleigh responded immediately and she explained the services they could provide for our German Shepherd Kolbie. After meeting Khaled for the consult, I was very impressed and decided to sign Kolbie up for the offleash obedience course and help with our dogs aggression. Since we were going to board and train our dog for five weeks, we were a little nervous but Khaled explained in great detail how they were going to train him and how they were going to gradually ease him into situations so that he was not overwhelmed and that put our mind at ease. We received regular updates from Khaled and Ashleigh regarding Kolbie's progress during the course, and if we had a question they would respond immediately. When the course was over, Khaled was very thorough teaching us how to use the e-collar with Kolbie and took time to answer our questions. Khaled followed up with us by phone a week after we left to make sure everything was going well with the training. We went up twice more for follow up consults and Khaled took Kolbie around other dogs and around groups of people to make sure the training had stuck. They were genuinely interested in his training and progress, and they were very accommodating with my schedule. I would gladly recommend First Choice Canine to anyone."
"I have a 2 year old Norwich terrier who can go anywhere with me, off leash and collar-less, under all circumstances. Khaled is to thank. "Jax" and I began working with Khaled when Jax was 9 months old. He loves to "train" and is very enthusiastic and attentive. I just read the review from 2013 from Cambridge: my dog was trained with the aid of a collar. To call it a "shock collar" is truly misleading. My dog was given the gift of training. He responds to my voice and is so happily reliable. To have used a sensation through a collar, to get his young attention led my dog into a level of training even his breeder could not believe. Jax's training has saved him in a stand off with a skunk (I called him and he immediately came). A trained dog is a safe dog. We have Khaled and training and his keen sense of my dog, to thank."
"We just completed our training at First Choice Canine and are completely satisfied with the results. Prior to meeting Khaled (dog trainer) we could not have anyone over our home because our dog Bruno would try to attack them. We tried many dog trainers, but none of them seemed to have a solution to help us with our fear aggressive dog. Not only at home, but for walks around the neighborhood or in car rides, Bruno would bark and try to go after other dogs and people. It was very stressful for all of us. I searched the web and found First Choice Canine and set up a consultation. We met Khaled and he was professional and very thorough during the consultation and discussed our training options moving forward and how getting Bruno off leash is very important as it will build his confidence. Also, he discussed leash and e-collar training and how it is instrumental in getting Bruno to the next step. Also, I might add Bruno was barking at Khaled during the consultation and Khaled was very calm and told us to take Bruno off leash while we were in the training room. We took Bruno off leash and Khaled in just a few minutes was able to get Bruno to approach him without barking and showing his teeth. That was when we knew we found a dog trainer that understands dogs, especially fear aggressive behavior. Prior to this we had dog trainers at our home and they could not approach Bruno so we were at a dead end. As a result, we proceeded with the First Choice Canine training and met once a week with Khaled. The training started with leash training where we built the foundation of obedience to only e-collar training (no leash) – all this training was done inside in the training room. Towards the end of the training we moved the training to a dog park and other congested areas where Bruno was off leash and responded to our training commands. Also, dogs and people would approach Bruno during our walks around the park and Bruno did not show any fear aggression. As a result, we are now able to have people over our home and go on walks with Bruno with a leash and without a leash and we do not need to worry about Bruno showing any fear aggression. Bruno is so confident now and the leash and e-collar training showed very positive results. I highly recommend Khaled's training and I am considering going back to him for advanced dog training on various dog tricks/agility training."
"After finishing the training with my dog, Pablo, I feel as if I finally have the perfect dog. Khaled, and his team did an amazing job training my 10 month old Staffordshire Bull Terrier. Pablo, was a great dog, but had a hard time listening to commands, and ran around the house tearing up everything he found. We had tried a couple of different trainers in the past, and didnt really get the results we expected. When we got married in September, we put Pablo into training with First Choice Canine. He spent a month working with Khaled and his team. My wife was upset leaving him for a month, But her concerns went away when me met the team, and the trainer , Chris , who Pablo would be staying with during his stay. While away we received updates. and photos of Pablo, and he looked happy in every one of them. We weren't sure what to expect when we picked up Pablo, but were amazed at the results. Not only was he able to listen commands, he was incredibly focused and enjoyed training. When we got home, he was like a different dog. He was well behaved and needed little correction from us. Khaled was great with the follow up training, in which we had to learn proper behavior and training techniques. I would highly recommend First Choice for the results, personal attention and care they put into what they do."
"Khaled and Ashleigh are great. I brought my dog to his class because she had nipped a couple of people and had general walking issues – trying to lead etc. We started with me going to all the training classes for about 6 weeks and then due to my schedule switched to broad and train. My dog now walks beside me with no leash and stays beside me. She sit or lay down and stay there until I give the magic command at which point she runs right to my side. It was really a great transformation and I feel much more comfortable about taking my dog for nice long walks.
As someone else mentioned, they do use e-collars. But it's not in a traditional sense of just punishing the dog, it's a slow process of associating not paying attention to the owner with the collar and praise plays JUST as much of a factor in their training method. (And what I found is my dog is now responsive to just the vibrate setting on the collar.)
The negative review here is someone who stopped at the consultation level. That doesn't seem fair. I went through the entire process with Khaled and could not be happier with the results. Remarkable."
"After two previous trainers we were at wits end with our 2 year old Boxer. We are home number 3 for this guy who came to us with practically no socialization skills; he was very fear aggressive with other dogs. Taking this dog for a walk was a project. We have two other dogs, one is a 10 year old Boxer so we thought we had this under control. I wasn't sure about the ecollar at first, but Khaled explained the concept and suggested we read up on it.Thank goodness we found First Choice. Here we are about two months later: no more bolting out the door; no more dragging me down the street; he can be walked off leash; no more jumping on people. The aggression/fear with other dogs is coming along greatly. Khaled has been there 100% for us. I would recommend First Choice training to anyone. Our Boxer (and ourselves) now live a much happier and social life."