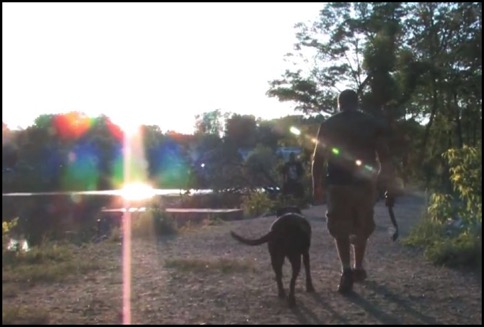 Matt and his dog Brady take an off-leash hike in Haverhill, MA.
Boston, MA recently designated some portions of the Boston Common as off-leash dog areas for companions that obey verbal commands (although only for certain hours in some places). These laws are similar to those of nearby Arlington. Dogs with off-leash training in Medway, MA get the best of both worlds: they can roam free anyplace and at any time in the city's dog park. In Newton, however, dog owners are not able to take their dogs off-leash in the park by default but can apply for a permit that allows them to do so:
"If you intend to take your dog to Newton's Off-Leash Parks, please purchase the License/Off-Leash Permit. Fee: spayed or neutered dog is $60.00, all other dogs are $65.00."
To make people feel more comfortable that a dog is permitted to be off-leash (and presumably to let authorities know when one isn't), off-leash dogs in Newton parks are required to wear a resident or non-resident off-leash medallion. Handlers must wear a "Professional Dog Walker" medallion. Those walking their dogs in off-leash parks are required to keep their leashes with them and keep their dogs under voice control and in their sight at all times.
Whether your city uses a permit system like Newton or a schedule system like Arlington, the common thread is that these dogs need to be social and have solid off-leash obedience training. Dog owners in MA and Southern NH can contact us today to set up a training consultation. Check out our programs for off-leash obedience, puppy obedience basics and behavior modification to get your dog ready to join the fun! Don't forget that First Choice Canine is certified for the AKC's Canine Good Citizen program and would be happy to work with you and your dog.