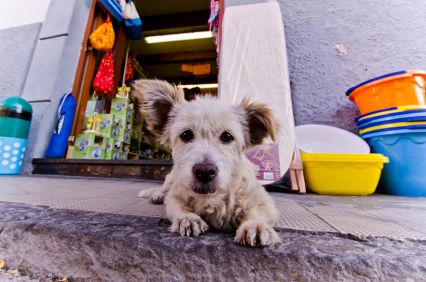 If you have a busy work schedule and a lot to take care of at home, it can be tough to make room for training a puppy. Since we have the resources to take our trainees all over MA and NH for sessions, one of our most popular programs is puppy training. We never stick to the same environment because our on & off-leash obedience has to work everywhere. Here are some of our favorite places in Massachusetts and New Hampshire for integrating a dog's training into the public:
Pet Stores: It seems like we're always buying more treats, toys, leashes and collars, so it's only natural that we'd look at trips to the store as a prime puppy training opportunity. Pet stores are a great setting for teaching a puppy to walk on leash. If you have a favorite pet supply store, identify times that aren't crazy busy but when there will still be some other dogs around.
Just exposing your puppy to other breeds and sizes is one of the best ways to train your puppy to be social, but be careful not to let your puppy get too close to dogs that could be reactive!
Winnekenni Castle: If you're training a puppy in Haverhill (or if you're somewhere around MA 108 like Plaistow, Newton or Merrimac), you have to try out Winnekenni Park. It's a beautiful public park on Kenoza Lake that boasts a 138 year old castle. What we like about it is that Winnekenni is a lively, dog friendly place and a fun place for a lunchtime or after-work hike. Although it's certainly not as heavily trafficked as Boston Common, it has the advantage of being a non-overwhelming experience for your puppy. Winnekenni also enforces a leash policy, so you don't have to worry about any bullies approaching your dog.
Newburyport (Downtown and the Boardwalk): When it comes to immersing your puppy among other people and pets, Newburyport is another great experience in the "shallow end"- meaning you don't have to feel like there's too much going on for your puppy. Whether we're training a puppy in our MA or NH location, we always think it's worth the drive to spend some time in this gorgeous city. We always run into other dogs and friendly humans. The car traffic is just enough to acclimate your puppy without having to worry about being hit by a stray taxi. There are people on bikes, places to walk along the water and plenty of pet-friendly shops. All in all, Newburyport offers a little bit of everything for training a puppy.
First Choice Canine: Ok, ok…we had to! The best puppy training is structured and consistent, so if you're working with your dog around MA and NH on your own at these locations, keep in mind that we can teach you great training techniques while we giving your puppy real results. Our training rooms in Brentwood, New Hampshire and Groveland, MA are the perfect starting points for puppy foundation training. Your puppy will be guided by experts in a setting with minimal distractions. Once puppy has nailed some of the basics, we systematically raise the bar by integrating the training into home and public settings.
If you need a MA or NH puppy trainer, fill out our contact form and get started today!